UK Tour in January
It's sure nice to start getting a few tours on the books after a two-year hiatus! My first tour will be over in the Olde Country with Lonesome Ace. We'll be there between Jan. 7 - 23. You can see where we'll be, and get some info by clicking https://www.lonesomeace.com/shows

New Album - Adeline
It's Alive!!!
I had so much fun making this album, and I'm so proud to be a part of it! Today is July 23 and it has officially "dropped" (as the cool kids like to say). You can download it or order a hard copy here at www.adelineoldtime.com , or stream it wherever you like to listen to music for free!

"ADELINE Brings together five musicians from four of today's most beloved bands in old-time, bluegrass, and folk music. Adrian Gross on mandolin (The Slocan Ramblers),  Mark Kilianski on guitar (Golden Shoals), Sam Allison on upright bass and bass harmonica (Sheesham and Lotus), John Showman on fiddle, and Chris Coole on the banjo (The Lonesome Ace Stringband). Captured at a 3-day recorded jam in the winter of 2021, the group play a selection of 15 old-time fiddle tunes with an overwhelming feeling of freedom and joy. www.adelineoldtime.com
New Lonesome Ace Album - November 26!
Way back in in the "before times" LAS played a great show at The Anza Club in Vancouver, BC. Lucky for us, we recorded the show with both high-quality audio and video. We were so happy with the result that we've mixed and mastered the whole thing, and we will be releasing it to streaming services on November 26. We'll be dropping videos in the weeks leading up to the release. Lively Times indeed!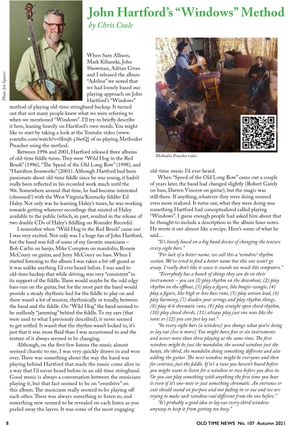 John Hartford's Windows Revealed!
When we recorded the Adeline album, we wrote in the liner notes that we had loosely followed John Hartford's "Windows" method of backing up fiddle music. It seemed like lots of folks didn't know what we were talking about, so when a British publication called "The Old-Time News" asked me to write an article to explain it a little bit, I was happy to get the chance. 
I was lucky enough to get to talk to my friend Bob Carlin a bit about his time with John and got permission to use some of John's own words to help explain. If you'd like to read it, click here.