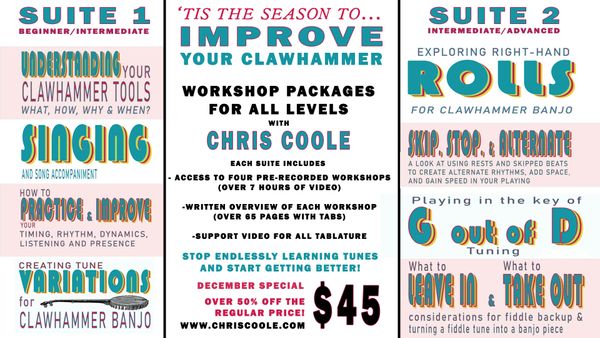 Includes access to the "Variations", "Practice and Improve", "Singing with the Banjo", and "Understanding Your Clawhammer Tools". (Prices in USD)
Read more…
close
Includes access to "Exploring Right-Hand Rolls", "Skip, Stop, and Alternate", What to Leave in and What to Take Out", and "G out of D" (Prices in USD)
Read more…
close
December Special - over 50% off!
- Each one of these suites includes four workshops
They are curated from the workshop series I've been doing for the past 18 months and focus on the skills that I think will be most valuable for both beginner/intermediate and intermediate/advanced level players. 
- Each workshop includes access to
- video of the live workshop
- a written overview of the topic (including tablature)
- support video of all tablature
For a description of individual workshops, click on the icons located on this page.
There is over 65 pages of written material and 7 hours of video included in each suite. 
If you order one of these suites, you will be sent an email with access links to all the workshops included. You will receive this within 24 hours of ordering the workshop. If you are purchasing this as a gift, you can then forward that email to whoever that lucky person may be. 
HOW TO PURCHASE AND PARTICIPATE IN PAST WORKSHOPS
You don't have to take these workshops live. They are archived for you to purchase and participate in any old time! You get access to a video of the entire workshop as well as all support material provided. There's even a blog for you to ask questions. Scroll down to see ten workshop topics. Click on the links below to read detailed descriptions, and if you wish, purchase the workshops.